From 1994 to 2021: All Science And Maths Quiz Winning Schools
From 1994 to 2021: All Science and Maths Quiz Winning Schools
The Grand Finale of the 2021 National Science and Maths Quiz (NSMQ) Just Took place on Friday 26/11/2021 at the Great Hall in KNUST. After so many rounds of exciting contests among 146 schools, only three schools were able to reach the finals.
Friday's contest features 6-time champions, Presbyterian Boys' Secondary School, Legon; 4-time champions, Prempeh College; and Keta SHTS.
But As we know the luck was at the side of Prempeh College which wins this year's completion with full determination.
Let us go through the past top winners of this great academic competition. Presec, Legon is the most successful school in the history of the NSMQ competition, followed by Prempeh College who wins this year's own, and St. Peter's SHS.
All Science and Maths Quiz Winning Schools
Check below for the winners of the competition since its inception till 2020. From 1994 to 2021, these are All the Science and Maths Quiz Winning Schools in Ghana.
Presbyterian Boys' Secondary School (PRESEC), Legon – 1995, 2003, 2006, 2008, 2009, 2020
Prempeh College – 1994, 1996, 2015, 2017, 2021
St. Peter's SHS, Nkwatia – 2000, 2005, 2018
Mfantsipim School – 1999, 2014
Opoku Ware School – 1997, 2002
St. Augustine's College – 2007, 2019
St. Thomas Aquinas SHS – 2013
Ghana Secondary Technical School (GSTS), Takoradi – 2012
Adisadel College – 2016
Achimota School – 1998, 2004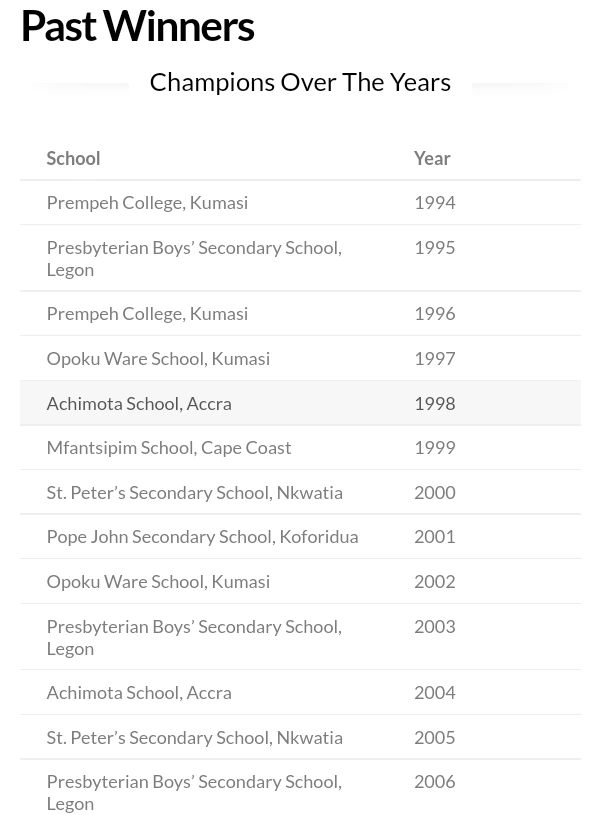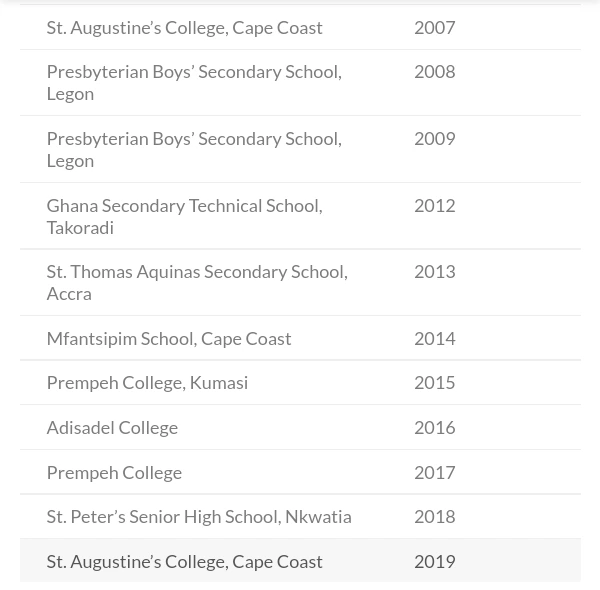 From 1994 to 2021: All Science and Maths Quiz Winning Schools.
Thank You for reading this post from Latest Ghana as online entertainment and news portal from Ghana. Don't forget to recommend our site, Latest Ghana to your friends and family who might also profit from the information on our website and check out our other articles because we have more information to bring to you via your devices.
I believe you have any comments or suggestions to drop about this article, kindly make use of the comment box below and reach us for more discussion.
Latest Ghana is on the mission to promote anything latest from Ghana; Latest Entertainment News, General News, Sports, Insurance, Banks, Mortgage, Farming, Scholarship, Education and Schools Admission, Product pricing, Food, Fashion, Health, Business and more.